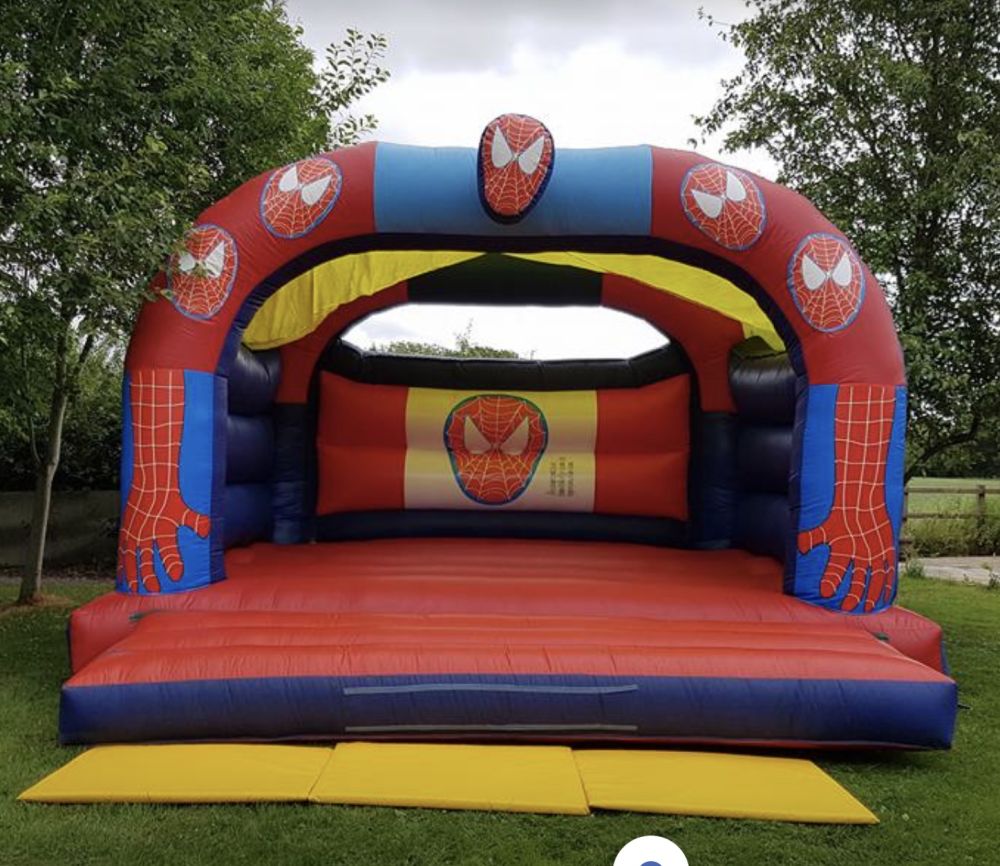 FREQUENTLY ASKED QUESTIONS
Q. WHEN CAN YOUR CASTLES BE BOOKED?
A. Our inflatables and packages are available to hire 7 days a week all year round including all bank holidays.
Q. WHAT HAPPENS IF ITS RAINING / ADVERSE WEATHER?
A. Our bouncy castles can be hired in light rain as most of our castles have a built in raincover, however they are not 100% waterproof. In the event of rain we recommend you to towel dry the inflatables to prevent any accidents. In the case of windy conditions, which exceed 24mph all outdoor events will be cancelled.
Q. MY PARTY IS AT A VENUE - DO YOU HIRE INDOORS?
A. Yes, please do ensure that the ceiling height in your selected venue will be higher than the inflatable, and there is no lights etc hanging down that can damage the inflatable. If unsure contact us and we will be happy to check and confirm with your selected venue.
Q. DOES THE BOUNCY CASTLE HAVE TO BE AT MY HOME ADDRESS?
A. Yes, the inflatable will need to be in a secure garden, unless the event is properly organised I.e fundays / school fairs etc. WE WILL UNDER NO CIRCUMSTANCES SET UP ANY INFLATABLE OR PACKAGE ON OPEN SPACES SUCH AS FIELDS AT THE SIDE OR BACK OF HOUSES OR FRONT GARDENS! Sorry for any inconvenience caused but health and safety is our top priority.
Q. WHAT ACCESS IS NEEDED FOR DELIVERY?
A. Our inflatables are often heavier and much larger than they look so to move them we use sack trucks so we do prefer easy access to your garden, if not we can transport through your property but if its raining, rain usually gets trapped in the inflatable and drains away and this could happen in your house.
Q. DO I NEED TO PREPARE BEFORE YOUR ARRIVAL
A. yes please can you ensure that all dog poop is picked up and disposed of, garden toys and furniture is moved from the place that the inflatables are to be placed, also all rubbish is removed. We often have many deliverys on so for us to be punctual at every drop this is an important job to do.
Q. DO YOU HIRE OVERNIGHT?
A. This can be arranged, there is an option on the booking form but there will be an extra charge for this.
Q. CAN THE INFLATABLE BE SET UP ON A SLOPE?
A. No, this is not possible, however if it is a slight grass slope it may be ok, if arranged we could come and take a look or ask for a photo to assess your garden.
Q. DO I NEED TO PAY A DEPOSIT?
A. No, we dont require a deposit for any of our inflatables or packages, therefore there is no cancellation fee, but please respect that we require at least 24 hours so we can have our equipment back up for hire. We accept that we cant always rely on the British weather so any cancellation weather wise less than 24 hours is acceptable. Also we have the right to cancel right up to the booking due to bad weather.
OUR RULES!!!
The units have different height/age suitability, please make sure no adults use one of units made for children as this would result in them becoming damaged.

No food or drinks to be taken on the inflatables to avoid choking and mess.

Under no circumstances are shoes, badges or jewellery to be worn on the inflatables.

It is also recommended that spectables are also to be removed.

STRICTLY NO face paints, party poppers, coloured streamers or "silly string" they must not be used near or on the inflatables as they can permanently stain the equipment.

No smoking near the equipment.

Climbing, hanging or sitting on the walls of the inflatables is dangerous and must not be allowed.

A responsible adult must supervise at all times.

In the event of heavy rain, it is strongly advised that the inflatable is switched of.

Do not use in strong winds from 19mph (24mph being complete cut off) we reserve the right to cancel any booking due to high winds.

DO NOT move any equipment once its been set up and installed our equipment.

Soft play equipment is for 5s and under.

Our equipment must be returned in the same condition that we leave it, if not then a fee of £50 will be charged to clean/replace any equipment damaged.

Please be prepared to have photographic id available to show us (ie passport or driving licence) if this is not possible 2x recent utility bill confirming your name and address.